Les Amusements de Cythère (copy 1)
Entered April 2015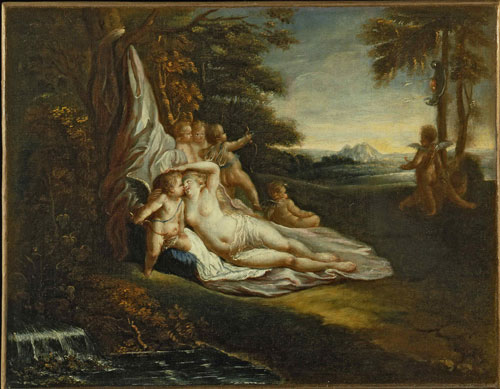 Basel, private collection
 
Oil on canvas
30 x 41 cm
PROVENANCE
France, private collection.
SELECT BIBLIOGRAPHY
Wintermute, "Surprise, Surprise!" (2012), 15:23.
REMARKS
The authenticity of this painting was accepted by Alan Wintermute in a lecture delivered at the Frick Museum, New York, in December 2012. While it corresponds in size and direction to the Surugue engraving, the cold, precise execution of the painting and the hard colors show no evidence of Watteau's hand. This picture does not compare favorably with his established paintings. It is certainly quite different from Le Repos gracieux in Oxford, L'Amour aiguisant ses traits in a private collection, and the Carnavalet Museum's Allegory of Winter, early Watteau paintings with which it should have some stylistic relation if actually autograph. If it were the earliest painting known from Watteau's hand, as has been claimed by some, it should bear some stylistic links to his established oeuvre in terms of color and brushwork.
Les Amusements de Cythère (copy 2)
Entered April 2015

Whereabouts unknown
Medium unknown
Measurements unknown
PROVENANCE
London, collection of M. van Fulens (formerly a resident of The Hague); his sale, London, April 25-26, 1788, lot 91: "Watteau . . . Venus attended by cupids." Sold for £9.9 according to the only known copy of this catalogue, now in the Barber Institute of Fine Arts, Birmingham.
REMARKS
The frustrating dearth of information given in early English sale catalogues prevents us from identifying this picture with any certainty. Yet the description of a Venus surrounded by putti accords very well with Les Amusements de Cythère. However, the lack of dimensions as well as the lack of a more detailed description of the composition prove insurmountable obstacles. Whether van Fulens' painting was actually Les Amusements de Cythère is impossible to decide, and whether it was more or less authentic than the version sold the following year in Paris under Gillot's name are equally moot.