Le Colin maillard (copy 1)
Entered January 2019; revised January 2020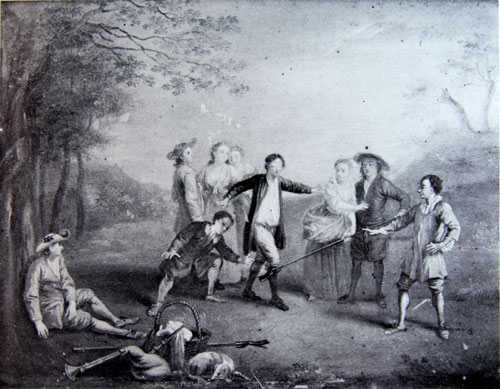 Whereabouts unknown
Oil on copper
16 x 21 cm
PROVENANCE
Crewkerne (Somerset), England, Lawrence & Son, sale, March 17, 1977, lot 87: "J. B. PATER . . . Jeu de Colin-Maillard, on copper 6 ¼ in by 8 ¼ in / 16 cm by 21 cm / (See Illustration)."
REMARKS
Although the painting was given to Pater when it appeared at auction in 1977, that attribution is meaningless. This picture is a straightforward copy of the Brion engraving after Watteau's composition. It is in the same direction as the engraving. There are, however, significant changes, most notably the omission of most of the landscape to the left and right, and the deletion of a substantial portions of the sky above. The result is a more compact picture in which the figures dominate their setting, quite unlike Watteau's original composition.
Le Colin maillard (copy 2)
Entered January 2019; revised January 2020

Whereabouts unknown
Materials unknown
Dimensions unknown
PROVENANCE
Paris, sale, Hôtel des ventes, December 28-29,1845, Lot 137: "MÊME ÉCOLE [WATTEAU (genre de)]. Deux jolis pendants représentant des sociétés jouant l'une au Colin-Maillard et l'autre dansant le menuet."

Paris, sale, Hôtel des ventes, February 19-20, 1847, lot 73: "WATTEAU (genre de). . . . Le Colin Maillard, et le Menuet. Ces deux tableaux sont pendants."

Paris, sale, Hôtel des commissaires-priseurs, September 20-21, 1860, lot 37: "WATTEAU (D'après). Le Colin-Maillard." The following lot was its pendant: "Le Bal."

Paris, sale, Hôtel Bullion, December 20-21, 1850, lot 52: "WATEAU. . . . "Le collin-maillard. Dans le milieu du tableau un jeune homme, les yeux bandés, conduit par une jeune fille, pacourant l'allée d'un parc où se trouvent réunies plusieurs personnes qui s'amusent de la embarrass du colin-maillard. Ce tableau est d'une composition gracieuse et d'un couleur qui tient aux peintures vénitiennes."  The following lot was its pendant: "Amusements champêtres dans un jardin."

Paris, collection of Monsieur, G . . . G . . . His sale, Hôtel Drouot, April 2-3, 1869, lot 116: "WATTEAU (D'APRÈS) . . . Le Colin-Maillard." The preceding lot was its pendant: "La Danse champêtre."
REMARKS
All five references appear to be to the same painting, especially since each time it was accompanied by a pendant with a fête galante featuring a scene of dancing.  At each instance the painting was classified as a work after Watteau rather than by Watteau. This suggests that it was a modest painting.  While we cannot be certain that it was actually after Watteau's compostion as recorded in Etienne Brion's engraving, still, nothing in the description suggests the variations by Lancret and Pater.
Le Colin maillard (copy 3)
Entered May 2020

Whereabouts unknown
Medium unknown
Measurements unknown
           
ALTERNATIVE TITLES
Blind Man's Buff
PROVENANCE
Clapham Common (London), collection of John Fairrie. His sale and others, London, Phillips, April 29, 1856, lot 92: "A. WATTEAU. . . . BLIND MAN'S BUFF." Sold for £37.16, according to an annotated copy of the sale catalogue in the Rijksbureau voor Kunsthistorische Dokumentatie.
REMARKS
Given how little we know about this painting, we cannot tell anything about it.