La Coquette
Entered July 2018; revised January 2020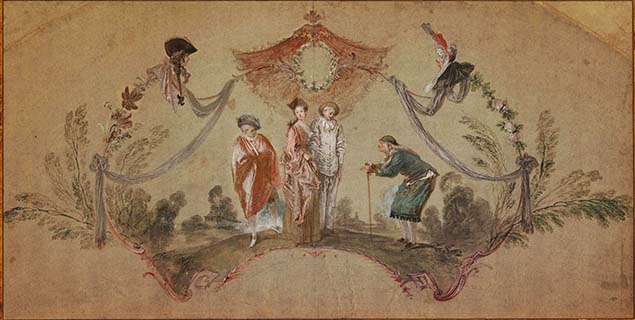 London, British Museum, inv. 1965-6-12-1.
Gouache and watercolor on paper
21.6 x 42.5 cm
ALTERNATIVE TITLES
Arlequin, Pierrot, Colombine, & Cassandre

Mascarades et ornements

Scène de la foire

Scène du théâtre italien

Un Sujet d'éventail
RELATED PRINTS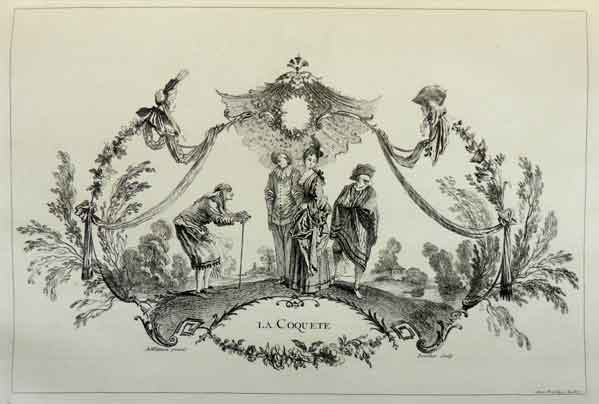 This composition was engraved in reverse by the young François Boucher in 1727. The caption declares "A. Watteau pinxit" but does not cite the owner's name. It was announced for sale in the December 1727 issue of the Mercure de France (p. 2677).
PROVENANCE
Paris, collection of Charles Antoine Coypel (1642-1752; painter, premier peintre du Roy, and playwright). His sale, Paris, April 1753, cat. 260: "Un sujet d'Eventail contenant quelques figures grotesques, dans un Cartouche d'ornemens; il est peint à gouasse sur du papier de soye, par Antoine WATTEAU, & l'on en a une Estampe." Sold for 36.1 livres to François Joullain (1697-1778; engraver and art dealer).

Paris, collection of Monsieur L. His sale, December 15-16, 1829, lot 66: "WATTEAU (A.) . . . Scène de la Foire, dans laquelle figurent Arlequin, Pierrot, Colombine, et Cassandre." An annotated copy of the sale catalogue in the Rijksbureau voor Kunsthistorische Dokumentatie has prices for many of the lots in this sale but not for this one, perhaps indicating that it did not find a buyer.

Paris, sale, Hôtel des ventes mobilières, April 14, 1838, lot 49: "A. WATTEAU (signé). Gouache représentant des mascarades et ornemens [sic]." This sale has not previously been cited in the provenance of La Coquette. There is an old inscription, "A. Watteau," on the board on which the painting was mounted, which may explain why it was referred to as signed.

Paris, collection of Louis-Maurice Bruzard (c. 1776-1838; chevalier of the Légion d'honneur). His sale, April 23-26, 1839, lot 300: "— [VATTEAU (Antoine).] Scène du théâtre italien: les personnages sont Léandre, Colombine, Pierrot et Cassandre. Cette gouache est sur peau de baudruche; elle était destinée à faire un éventail." It was sold for 301 francs according to an annotated copy of the catalogue in the Rijksbureau voor Kunsthistorische Documentatie.

Paris, collection of the Rothschild family, probably Jacob or Joseph Rothschild (1792-1868); by descent to James' daughter Charlotte (1825-1899), who married Nathaniel Rothschild (1812-1870). By descent to Evelyn Robert Adrian de Rothschild (b. 1931); sold in 1965 to the British Museum.
EXHIBITIONS
London, British Museum, Watteau Drawings (1980), cat. 6 (as Watteau, Design for a Fan-leaf).
SELECT BIBLIOGRAPHY
Mariette, "Notes manuscrites," vol. 9, fol. 198.

Goncourt, Catalogue raisonné (1875), cat. 334.

Blondel, Histoire des éventails (1875), 118-19.

Dacier, Vuaflart, and Hérold, Jean de Jullienne et les graveurs (1921-29), cat. 210.

Réau, "Watteau" (1928), cat. 279.

Macchia and Montagni, L'opera completa di Watteau (1968), cat. 2o–N.

Croft-Murray, "Watteau's 'Fan-leaf'" (1974), 176-81.

Paris, Musée de la monnaie, Pèlerinage à Watteau (1977), 2: cat. 439.

Hulton, Watteau Drawings (1980), cat. 6.

Washington, Paris, Berlin, Watteau 1684-1721 (1984), 57.

Eidelberg, "Huquier, Friend or Foe of Watteau" (1984), 158.

Scott, "Watteau and the Decorative Arts" (1984), 339.

Lefrançois, "L'Influence de Watteau sur Coypel" (1987), 66.

Rosenberg and Prat, Watteau, Catalogue raisonné des dessins (1996), cat. 8, 189.

Moulinier, Vêtir les fêtes galantes (2016), 92-95.
RELATED DRAWINGS
Croft-Murray proposed that an early Watteau drawing of a kneeling woman (Rosenberg and Prat 7), shown in profile and wearing a fontange headdress, was used by the artist for the similarly positioned and similarly adorned head of a woman at the top of La Coquette. Rosenberg and Prat noted his observation but seem unconvinced by it. Indeed, the head in the drawing is slightly inclined whereas that in the arabesque is in strict profile; in addition the drawn fontange is not as high or as extravagant as the one in the arabesque.
REMARKS
In his "Notes manuscrites," Mariette wrote an informative entry apropos of the engraving of La Coquette: "Un cartouche d'ornemens renfermans quelques figures grotesques . . .  et le dessein en avoit été fait par Watteau  pour estre peint sur un éventail . . . peint à gouasse, sur papier de soie."
Although a fair number of Watteau's studies for arabesques are extant, they all are drawn with red chalk. In this example, however, the underdrawing is in black rather than red chalk. More exceptionally, this is the only extant example of an arabesque study worked in gouache. If we accept Mariette's testimony verbatim, it was intended as a model for a professional fan painter. It was not itself intended to be mounted as a functioning fan.
The general structure of the arabesque—especially the swags of drapery and the foliage of the saplings that constitute the outer limits of the design—accords with the arabesques that Watteau created while working under Claude III Audran. Distinctive elements, however, are the detached heads at the top, which generally do not appear in Watteau's other arabesques. Of special note is the woman's headdress: she is wearing a fontange, a type of lace headdress that was introduced in the 1680s and became increasingly taller and more complex in the next decades. It began as a court fashion and was luxury apparel because of the expense of the lace. But gradually it descended to the bourgeoisie, as can be seen in a contemporary print depicting the annual fair at Bezons: a number of women with high peaked fontanges wait at a concession stand in the foreground.  A print depicting bread riots in 1709 shows two of the rioting women still wearing them. The fontange fell from favor in 1713 when at a royal dinner Madame de Charlus' fontange caught fire from a candle as she leaned forward to get some salt.
There are relatively few instances of fontanges in Watteau's oeuvre. They appear only occasionally in his early drawings (Rosenberg and Prat 55, 56, 68). Significantly, fontanges are worn by all three women in his drawing for Les Illustres ennemis (Rosenberg and Prat 9), a drawing that can be firmly dated to 1714.  Although fontanges were present in Watteau's compositional study for Les Délassements de la guerre (known through the engraving in the Figures de différents caractères, plate 270), these elements of fashion do not appear in the final painting, which, correctly or not, is generally dated around 1710-12. Thus, while the presence of a fontange in La Coquette has consequences for the early dating of the arabesque, it does not allow us to pinpoint a specific year.
Later in his career, Watteau was inspired to return to the central elements of La Coquette when he drew a composition with a marriage procession acted out by commedia dell'arte characters (Rosenberg and Prat 21). In this  drawing  Cassandre still leans on his cane, but leads the bridal couple rather than turning back to look at the procession as in La Coquette. The young couple repeat the postures of Pierrot and Colombine, but their genders are reversed: the groom assumes Colombine's pose and the bride assumes Pierrot's downcast face. In both compositions, Leander follows behind, his arms hidden under his cape. If the figures of La Coquette are elongated and scrawny, those in the drawing are fuller bodied and more appealing, all in accord with the artist's evolving style. Echoes of this processional group are also found at the center of La Mariée de village.
Although Watteau's autograph version of La Coquette was unknown to early scholars, the engraving was. Yet few scholars discussed it or included it in their listings of Watteau's oeuvre. Moreover, despite its acquisition by the British Museum in 1965 and Croft-Murray's subsequent publication, few Watteau scholars have considered it. For example, Roland Michel, Posner, Temperini, and Glorieux have all kept silent. In part this is due to the equivocal nature of its medium; is it a painting or drawing? In Boucher's engraving, the legend firmly states, "A. Watteau pinxit." Accordingly, de Goncourt and Réau classified it as a painting. Indeed, it is fully painted—the only extant work by Watteau in gouache, a medium the artist is known to have employed at other times. Yet Hulton and then Rosenberg and Prat included it among Watteau's drawings.
For copies of La Coquette CLICK HERE