X. A Couple and a Child Making Music
Entered July 2017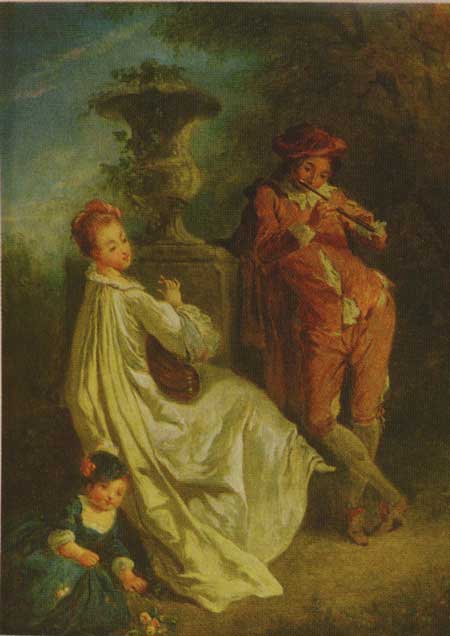 Whereabouts unknown
Oil on canvas
41.1 x 32.1 cm
PROVENANCE
London, Sotheby's, September 18, 1997, lot 218: "Manner of Antoine Watteau / A COUPLE AND A CHILD MAKING MUSIC IN A LANDSCAPE / Oil on canvas / 41.1 by 32.1 cm.; 16¼ by 12¾in. /£1,200-1,800."
REMARKS
When this painting appeared at auction in 1997, it was described, for lack of a better ascription, as "manner of Antoine Watteau." Yet the work has little to do with him or his school save that is a scène galante. Neither the faces not the exaggerated postures of the two adults recall Watteau's art. 
It could be argued that the woman's pose, her turned head peering over her shoulder, is derived from the woman in Sous un habit de Mezetin but, even if so, this composition reveals the difference between the model and the copy. Watteau's pose conveys a sense of gentle repose whereas the copyist has created a mannerist tension between the body's turn forward and the upraised arm and leg. 
Likewise, the flutist's exaggerated hipshot pose suggests no analogies with Watteau's oeuvre. The crossed legs are a classical formulation that can be traced to the famed sculpture of Pothos, but it is generally not employed by Watteau or his school.
Curiously, there are at least two other paintings with essentially the same composition except for differences in their format, and the addition of a lutenist in the foregrounds. One, a horizontal rectangle, was sold in London at Christie's (December 4, 2014, lot 7) with the designation "manner of Nicolas Lancret." The second, a horizontal oval, was also sold in London at Christie's (November 3, 1978, lot 101), under the name of Philippe Mercier. The ascriptions to Lancret and Mercier are as meaningless as the one to Watteau.
These three works, seemingly from the same hand, may not be eighteenth-century in origin. In significant ways, including the style of execution and the repetition of the composition in multiple formats, these paintings recall the Couple Making Music and its variants, which appear to be fabrications of the mid-nineteenth century.