X. Scène galante
Entered July 2018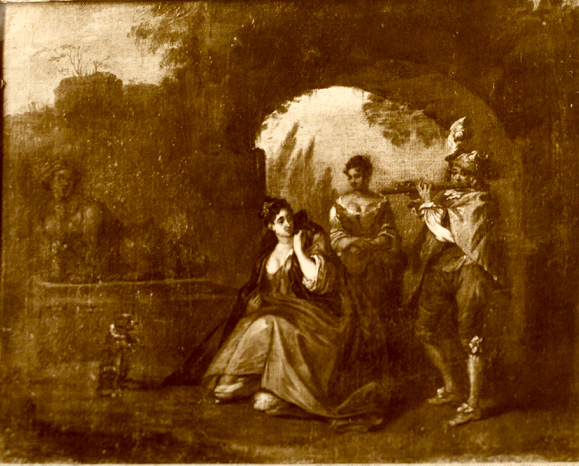 Whereabouts unknown
Medium unknown
Measurements unknown
PROVENANCE
Paris, c. 1930, with Xavier Desparmet Fitz-Gerald (1861-1941; artist and art dealer).
SELECT BIBLIOGRAPHY
Wildenstein, Lancret (1924), cat. 91, 92.
REMARKS
This painting is known through a photograph in the Rijksbureau voor Kunsthistorische
Dokumentatie; on the verso is the annotation "Desparmet." Although the picture was evidently attributed to Watteau, it should be classified as the work of a heavy-handed pasticheur, perhaps not even French.
The source of this composition is a pair of pendant Lancret paintings now in the Fitzwilliam Museum, Cambridge. The flutist is taken from Lancret's Par une tendre chansonette, while the two women are borrowed from Dans cette aimable solitude. The Romantic setting with its arched opening and fountain is the pasticheur's invention. While the attribution to Watteau of this picture seems improbable by today's standards, it should be remembered that the Fitzwilliam paintings were attributed to Watteau in the early twentieth century.