La Collation sur l'herbe
Entered December 2018; revised January 2020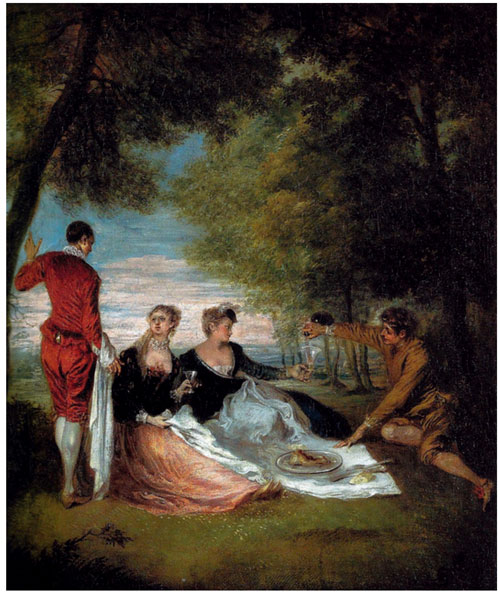 Winterthur, Sammlung Oskar Reinhart, 'am Römerholz,' inv. 1924.5
Oil on canvas
35 x 30 cm
ALTERNATIVE TITLES    
La Collation      

Le Déjeuner sur l'herbe 

Das Frühstuck

Das Frühstuck im Freien

Imbiss im Freien

The Picnic
RELATED PRINTS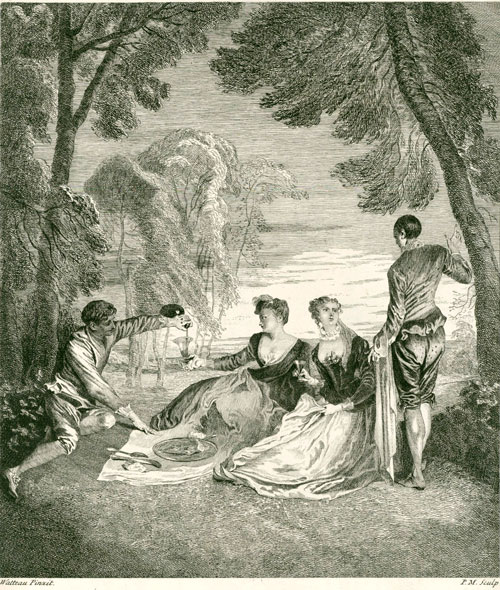 This painting was etched in reverse in the early 1720s by Philippe Mercier (1689-1760), the Watteau satellite who spent most of his career in England. At the bottom left, the legend reads "Watteau pinxit" and at the right, "P.M. sculpt." Unfortunately, this print carries no guarantee of authenticity for the painting because Mercier was a devious artist, as will be discussed below.
PROVENANCE
Cologne, Collection Léopold, 1865.

Aachen, collection of Barthold Suermondt (1818-1887; industrial entrepreneur). Sold in 1874 with a large portion of Suermondt's collection to the Kaiser Friedrich Museum.

Berlin, Kaiser Friederich Museum, inv. no. 474A.

Lucerne, with the Lucerne Fine Art Co. Ltd., sold on December 1, 1924, to Oskar Reinhart for £7,500.
SELECT BIBLIOGRAPHY
Mariette, "Notes manuscrites," 9: fol. 192.

Thoré-Burger, "La Galerie Suermondt" (1869), 22-23.  

Goncourt, Catalogue raisonné (1875), under cat. 118.      

Weisbach, Impressionismus (1910-11), 1:189.

Zimmermann, Watteau (1912), no. 18.

Posse, Gemäldegalerie des Kaiser-Friederich-Museums (1909-11), 1: 259-60.

Dacier, Vuaflart, and Hérold, Jean de Jullienne et les graveurs (1921-29), 1: 260; 3: cat. 66A.

Réau, "Watteau" (1928), cat. 136.

Barker, Watteau (1939), 52.

Adhémar, Watteau (1950), under cat. 122.

Macchia and Montagni, L'opera completa di Watteau (1968), under cat. 101.

Ferré, Watteau (1972), cat. P67.

Koella, Sammlung Reinhart (1975), cat. 35.

Ingamells and Raines,  "Catalogue of Mercier" (1976-78), cat. 290.

Reinhard-Felice, Collection 'Am Römerholz' (2005), cat. 51.
EXHIBITIONS
Brussels, an exhibition organized by the Dutch legation, c. 1860 (cited by Goncourt, 1875)
REMARKS
As has long been recognized, this composition closely follows Watteau's significantly larger La Colation, known through the Jean Moyreau engraving. It is often written that the difference between the two is that this painting copies only the central section with the two men and women.  But there are other, subtle changes as well, changes that indicate that La Collation sur l'herbe reflects a later moment in Watteau's stylistic development. One small detail is the way that the woman at the left tilts her head. In La Colation her head, neck, and shoulder form a steep angle, similar to that seen in relatively early Watteau fêtes galantes such as Le Sommeil dangereux. But in La Collation sur l'herbe the same woman's head is more upright. Likewise, the trees in La Colation form a dense forest, and the foliage is rendered as clumps, whereas in the later work the trees are more like saplings and the foliage is less weighty. Rather than being hemmed in by the forest glade, the picnickers are set against a patch of open sky. The foreground of La Colation features a small pool of water, a compositional device Watteau used in several early fêtes galantes such as Le Sommeil dangereux. But this motif soon dropped away. In short, these slight but telling differences reveal a subtle reworking of the first design.
This painting was at first accepted as being by Watteau, primarily by eminent German critics whose ranks included Thoré-Burger, Bode, and Zimmerman. Later Barker and Koella gave their assent. However, the painting was rejected by Dohme, Adhémar, Macchia and Montagni, and Ingamells, all of whom, aware of Mercier's deceitful nature, favored the idea that the Winterthur picture is by Mercier. The issue is more complicated than is generally acknowledged. Mercier engraved  a number of legitimate Watteau paintings, such as the Île de Cythère now in Frankfurt, La Boudeuse in the Hermitage, and La Toilette du matin. The problem is that he also engraved a number of his own compositions with the claim that they had been painted by Watteau. Among these falsified attributions are Le Danseur aux castagnettes, La Troupe italienne en vacances, and L'Amant repoussé. Understandably, modern critics have been divided as to whether La Collation sur l'herbe is by Watteau or is one of Mercier's sleights of hand.
A comparison of La Collation sur l'herbe with Mercier's paintings reveals that this satellite's style is quite different. Even if we compare this picture with Mercier's Heureuse rencontre—a work that in its landscape approaches our painting—the handling of the figures is strikingly different. Mercier favors faces with carven features, arched eyebrows, disproportionately large heads, and quizzical expressions—characteristics not found in the Winterthur painting.
Some will be dubious that Watteau would have executed two such similar paintings as La Colation and La Collation sur l'herbe. We are accustomed to think of him as a free-spirited artist, too free to repeat a composition. Yet on many occasions he did repeat himself, frequently with minor or substantial changes; consider Les Jaloux and Pierrot Content,L'Assemblée galante and L'Assemblée dans un parc, Les Champs Elisées and Divertissements champêtres. In regard to the two versions of La Colation, the basic aspects of the figures have been modified only slightly but the landscape setting and some of the accessory elements have been completely reworked. This is just what we might expect of Watteau.
Click here for copies of La Collation sur l'herbe