Le Concert champêtre (copy 1)
Entered August 2019 Whereabouts unknown
Oil on canvas
67.5 x 64.8 cm
PROVENANCE
Paris or Versailles, collection of Dr. Joseph Marie François de Lasonne (1717-1788; premier Médecin du Roi). His sale, Paris, March 5ff, 1789, lot 9: "Genre de WATTEAU . . . Une Compagnie de neuf différens personnages rassemblés dans un paysage, & s'amusant à faire de la musique. Cette composition agréable a été gravée sous le titre de Concert Champêtre. Hauteur 25 pouces, largeur 24. T." Sold for 50.1 livres.
REMARKS
The painting's attribution as only "genre de Watteau" suggests that the auctioneer did not accept it as authentic. The 1789 sale catalogue cites only nine people present whereas Watteau  included ten figure in his canvas; is the missing figure the copyist's or the cataloguer's error?
Le Concert champêtre (copy 2)
Entered August 2019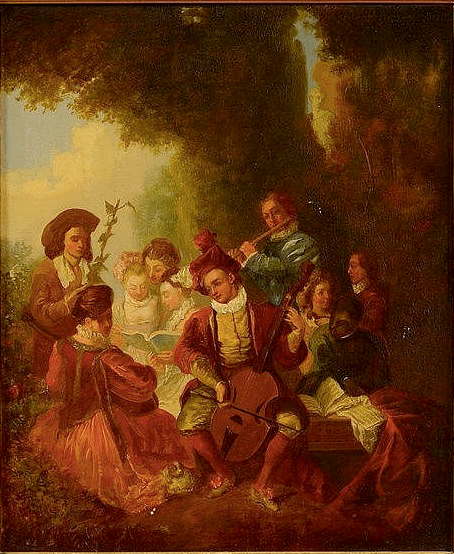 Whereabouts unknown
Oil on canvas
60.5 x 49.5 cm
PROVENANCE
Brussels, sale, Vanderkindere, January 17, 2018, lot 293: "WATTEAU, Jean-Antoine . . . Huile sur toile marouflée sur toile, "Le concert champêtre." D'après Jean-Antoine Watteau. Ecole française. Epoque XIXème. Dim. 60.5 x 49.5 cm."
REMARKS
Although a weak copy after Watteau's composition, it does follow the direction of the painting rather than that of the engraving.
Click here for Le Concert champêtre