La Contredanse
Entered July 2019; revised January 2020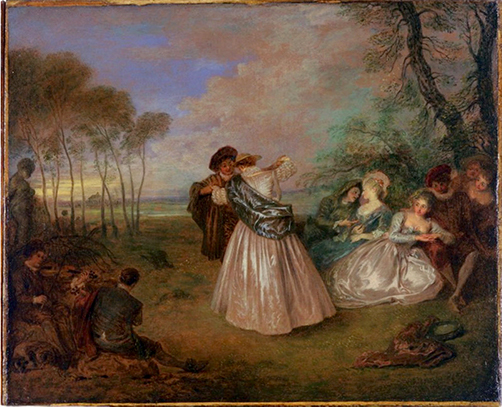 San Francisco, The Fine Arts Museums of San Francisco, Gift of Mrs. Clarence Sterling Postley, 2000.153
Oil on canvas
44.5 x 54.6 cm
ALTERNATIVE TITLES    
La Danse

Quadrille

Quadrille in a Landscape
RELATED PRINTS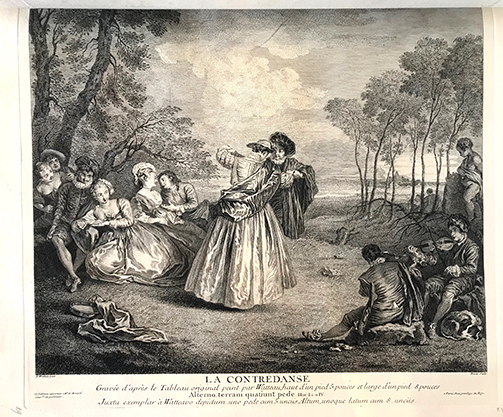 La Contredanse was engraved in reverse by Étienne Brion, and the print was announced for sale in the July 1731 issue of the Mercure de France, p. 1780.
PROVENANCE
Paris, collection of Jean-Baptiste François Montullé  (1721-1787; Conseilleur au Parlement de Paris). Montullé's ownership was announced on Brion's engraving: "Ce Tableau appartien a Mr de Montulé. Cons.er en parlement." His sale, Paris, December 22, 1783, lot 57: "PAR LE MÊME. [ANTOINE WATTEAU] . . . Un Paysage agréable, au milieu duquel on voit un homme & une femme dansant le menuet; à la droite du Tableau on voit six figures assises & en différentes  attitudes; à la gauche on remarque un grouppe de Musiciens. Ce Tableau au premier coup est fait avec tout l'esprit possible. Hauteur 15 pouces, largeur 20 pouces. T." According to the Getty Provenance Index, the painting sold for 165 livres to the dealer Jean-Baptiste Pierre Lebrun (1748-1813).

Grenoble, collection of Dr. G. His sale, Paris, February 19, 1872, lot 59: "WATTEAU (ANTOINE). Récréation champêtre. Dans un paysage, deux violonistes à gauche, sur le premier plan, accompagnent une jeune femme et son cavalier qui se livrent au plaisir de la danse. Un peu en arrière, plusieurs groupes de dames et seigneurs assis sur l'herbe devisent galamment."

London, Gabbitas collection. His and others' sale, London, Christie's, June 10, 1907, lot 74: "WATTEAU . . . LA CONTREDANSE; and AN ENGRAVING / 17 in. by 21 in." According to Christie's annotated catalogue, now in the National Art Library, Victoria & Albert Museum, the painting sold for £2,625 to "Lane."

London, collection of Sir Hugh Lane (1875-1915; art dealer and collector). In his collection by 1909 when he lent it to the National Loan Exhibition.

New York, collection of Sterling Postley (1877-1928) (starting with Adhémar and continuing until 1998, the collector's name was given incorrectly as "Post."). By descent to his son, Clarence S. Postley (c. 1906 - c. 1983) and his wife.

New York, collection of Mrs. Clarence Sterling Postley; her sale, New York, Sotheby's, May 21, 1998, lot 125: "Jean Antoine Watteau . . . QUADRILLE IN A LANDSCAPE (LA CONTREDANSE). / oil on canvas / 17 ¾ by 21 ¾ in.  45.1 by  55.3 cm. . . . Provenance: Advocat Montullé (Sale, Paris, 1783, lot 57) / Mildway Collection, 1857 and 1874 / Sale: London, June 10, 1907, lot 74 / Sir Hugh Lane, London, by 1910 /  Wildenstein & Co., New York, from whom acquired by 1950 by the present owner / . . . $500,000-700,00." Bought in.

Donated to the Fine Arts Museums of San Francisco in 2000.
EXHIBITIONS
London, Grafton Galleries, National Loan Exhibition (1909-10), cat. 14 (as by Watteau, La Contre-danse, lent by Sir Hugh Lane). 
SELECT BIBLIOGRAPHY
Hédouin, "Watteau" (1845), cat. 103.

Hédouin, Mosaïque (1856), cat. 104.

Goncourt, Catalogue raisonné (1875), cat. 122.

Monod, "L'exposition nationale" (1910)

Nicolle, "L'Exposition nationale" (1910), 58, 60.

Zimmermann, Watteau (1912), no. 20.

Dacier, Vuaflart, and Hérold, Jean de Jullienne et les graveurs (1921-29), cat. 177.

Réau, "Watteau" (1928), cat. 112.

Adhémar, Watteau (1950), cat. 156.

Mathey, Watteau, peintures réapparues (1959), 68.

Macchia and Montagni, L'opera completa di Watteau (1968), cat. 131.

Ferré, Watteau, 1972, 1: 157; 3: 787, 921, 948, cat. B43.

Roland Michel, Watteau (1981), cat. 175.

Washington, Paris, Berlin, Watteau 1684-1721 (1984), under cat. 31.

Rosenberg and Prat, Watteau, Catalogue raisonné des dessins (1996), cat. 225, 328, 481, 539, 628, R102.

Temperini, Watteau (2002), cat. 55.

Brussels, Palais des beaux-arts, Watteau, Leçon de musique (2013), under cat. 32.

Paris, Jacquemart-André, Watteau à Fragonard (2014), under cat. 31.

Eidelberg, "Watteau and a Souvenir of Rome" (2019).
RELATED DRAWINGS
Only a very few of Watteau's extant drawings can be related to La Contredanse.
A drawing in the collection of the École des beaux-arts, Paris, contains studies used by Watteau for a number of paintings (Rosenberg and Prat 481). With good reason, it has been proposed that the seated woman at the center of the sheet was used for La Contredanse. But the woman in the drawing looks straight ahead, whereas in the painting she looks slightly to the side. As will be shown, Watteau used a separate study for her head and hands.
A drawing in the National Gallery, Washington, contains two studies of a woman that were used for the painting (Rosenberg and Prat 620). The study at the top of the sheet, of the woman with interlaced fingers, was used for the figure at the right of the painting, amplifying what was indicated in the École des beaux-arts drawing.  On the same sheet in Washington, in the lower right corner, is another study of the woman, now with almost fully bared breasts. She reappears at the far right of the painting.
The study for the dancing woman has not survived, but it can be safely posited that there was such a drawing and that it was made at the same time as a sheet of studies now in the Brussels museum (Rosenberg and Prat 225). The model in the Brussels drawing wears the same dress and distinctive flat hat, as well as the same sash across her torso.
In the painting, the woman seated to the left of the group was based upon a Watteau drawing that no longer survives, but was copied in a sketch now in the Fogg Art Museum (Rosenberg and Prat R102).
Most scholars have claimed that a drawing of three musicians in the Ashmolean was used for La Contredanse (Rosenberg and Prat 539). But there are several reasons to question this association. The musicians' costumes in the drawing differ from those in the painting, and the way that they hold their instruments is not the same. In the drawing the two violinists, one seen from behind and the other facing the viewer, are like the painting but only in that limited sense; in the drawing they do not face each other and are psychologically unrelated. The Ashmolean  drawing was used for La Vraie gaiété, and there one finds a far greater concordance between the drawing and the painting.
REMARKS
When the picture from the Postley collection came up for sale in 1998, it was completely repainted. While the colors were fresh and glowing in the best Venetian tradition, there was a flat dullness to the entire surface, enough so that it was difficult to believe that this picture was from Watteau's hand. It seemed to be just a good copy after Watteau's composition. Indeed, despite the relatively modest estimate, the painting did not sell. The painting was then donated to the Fine Arts Museums of San Francisco. After close examination it was decided to embark upon a program of conservation. The process removed the extensive overpainting and uncovered what remained of the original paint; there proved to be substantial loss and abrasion. Conservation revealed important pentimenti, changes that confirmed the authenticity of this work. At the left side, the branches originally extended down further, encroaching into the area of the trio of musicians. Conservation also revealed traces of buildings in the distance that later were painted over by Watteau. Among them is a tall, domed structure. Are these the remains of Roman buildings of the sort that the artist was fond of including to suggest an idyllic Italian milieu?
That the original owner of this painting was the parliamentarian Montullé is interesting on several counts. Few of the original first owners of Watteau's fête galantes were men of such stature. On the other hand, Montullé was a cousin of the painter's chief sponsor, Jean de Jullienne, which probably explains Watteau's distinguished patronage on this occasion.
In 1875 Edmond de Goncourt introduced the idea that the painting was then in England in the collection of Humphrey St. John Mildmay. He had evidently not seen the painting firsthand but instead relied on an entry in Waagen's Treasures of Art in Great Britain (1857), 4: 158:
ANTOINE WATTEAU.—In a free space, surrounded by wood, are a couple dancing a minuet. On the right three musicians, on the left a party of five ladies and four gentlemen looking on. Five of the party are recumbent. Very happily composed, of striking effect effect of light, and rendered throughout, including the trees, with as much spirit as care.

Ever since de Goncourt's publication it has become customary to include Mildmay's name in the provenance of La Contredanse. Dacier and Vuaflart mistranscribed the name as "Mildway," and this error was repeated by Adhémar as well as Macchia and Montagni. Réau called the collector "Midway." Adhémar further confused things by writing that "Mildway" owned the painting in 1854 and again in 1857; these dates are actually years associated with the publication of the first and fourth of Waagen's volumes. These corruptions of the name and dates still survived when the painting was sold in 1998. Ironically, it is all a wild goose chase because Mildmay never owned La Contredanse. The Watteau painting he owned was Le Bal champêtre. Curiously, de Goncourt did not cite a painting sold in Paris just three years earlier from the collection of Dr. G. This was a version, if not the original, of La Contredanse.
Regarding the transfer of the painting from France to England, Adhémar wrote that the painting had crossed the Channel in the middle or late part of the mid-eighteenth century, or at least by 1810. As often is the case, she did not document her claim. The first part of her provenance certainly cannot be correct because the painting was still in Paris in the Montullé collection until the 1783 auction.  In fact, we really cannot document the painting's whereabouts again with any certainty until the late nineteenth or early twentieth century when it was in Sir Hugh Lane's collection. The first notice of it in Lane's collection was in the 1909-10 exhibit at the Grafton Galleries. It is possible that this 1910 date was the source of Adhémar's claim that the painting was in England by 1810.
There is a good possibility that La Contredanse remained in France throughout the nineteenth century. As Dacier and Vuaflart pointed out, a painting matching La Contredanse appeared at a Parisian auction in 1872, but not much heed has been paid to this work since it was assumed that Watteau's original canvas was by then in London, in the Mildman collection. But now that we know that Mildmay did not own La Contrdanse, this opens a large, uncharted gap between the Montullé sale of 1873 and its appearance in Hugh Lane's collection by 1910.
Beginning with Adhémar, it has been claimed that after the picture left Sir Hugh Lane's collection, it was owned by Wildenstein & Co. in New York. When the painting was sold in 1998, Sotheby's claimed that Sterling Postley had bought it in 1950 from Wildenstein. However, I am informed that the Wildenstein records indicate that they never owned the painting. (It should also be noted that ever since Adhémar's publication, "Postley" has been consistently misrecorded as "Post.")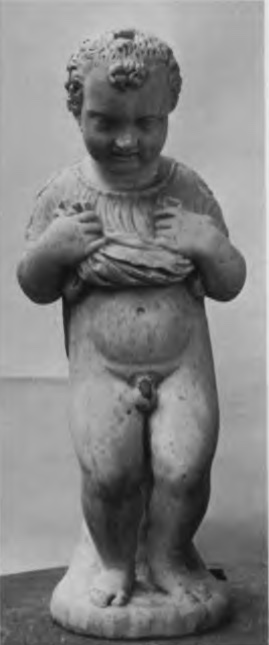 An overlooked element in La Contredanse is the statue of a very young boy at the side (now seen most clearly in Brion's engraving); he lifts his garment, a chiton, to facilitate urinating. Similarly placed statues appear at the sides of other Watteau fêtes galantes such as La Leçon d'amour and Amusements champêtres. What makes this statue unusual is that it depicts a Renaissance imitation of a Roman sculpture. That sculpture is now in the Louvre but in Watteau's time it was still in Rome. The artist must have seen a Rubens drawing of the sculpture. For a more detailed discussion of this see my study, "Watteau and a Souvenir of Rome."
There is overall agreement that the San Francisco picture is the original painting, especially since so many pentimenti were revealed in the restoration. In fact, the only recorded dissenter is Ferré, but his judgment has often been erratic and wrong.  Surprisingly, critics have even agreed about the date of the painting, placing it somewhere in the middle of the artist's career. While there normally is little agreement regarding the date of Watteau's paintings, here there is unanimity. All are agreed that La Contredanse was executed in 1715 or 1716. Temperini is alone in pushing the date to 1717.
Click here for copies of La Contredance