La Contredanse (copy 1)
Entered July 2019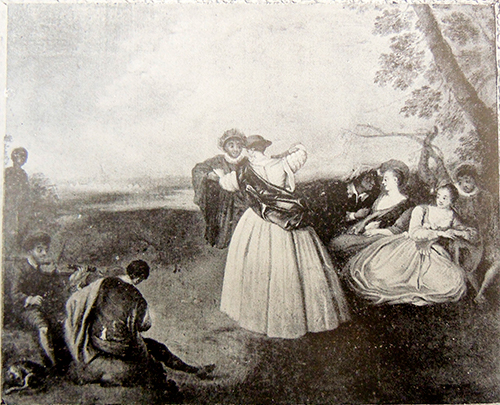 Whereabouts unknown
Oil on canvas
63 x 80 cm
PROVENANCE
Nice, collection of Guillaume Tervies (Jervies?)]. His sale, July 6, 2004(?), ascribed to Nicolas Lancret.


           
REMARKS
Little is known about this painting. Clearly, though, this picture is nothing more than a poor quality copy after Watteau's La Contredanse. It definitely cannot be given to Nicolas Lancret. Surprisingly, it copies the direction of Watteau's composition rather than agreeing with Brion's engraving. It is larger than Watteau's painting. It has omitted Watteau's small copse of trees at the left side, but has retained the statue.
La Contredanse (copy 2)
Entered July 2019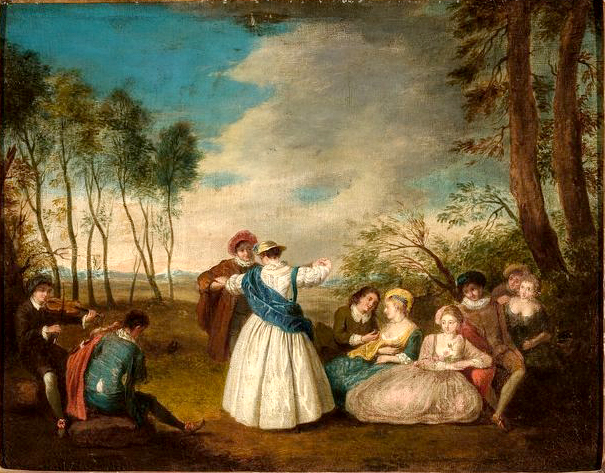 Whereabouts unknown
Oil on canvas
45 x 55.5 cm
PROVENANCE
Toulon, Mobilier de la Commanderie de la Bargemone, May 18, 2014, lot 34: WATTEAU Antoine . . . (école de) La contredanse Huile sur toile (rentoilage, petites usures). Dim. : 45 x 55,5 cm. Cadre ancien en bois sculpté et redoré à décor de cartouches à palmettes. 1 000 € / 1 500 €.
REMARKS
This copy of La Contredanse follows the direction of Watteau's painting and while it has copied the copse at the left of the composition, it has omitted the statue.