La Contredanse (copy 1)
Entered July 2019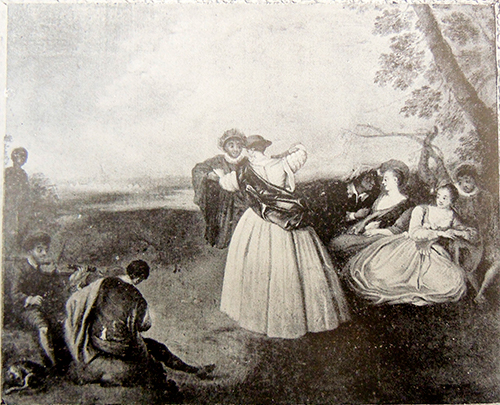 Whereabouts unknown
Oil on canvas
63 x 80 cm
PROVENANCE
Nice, collection of Guillaume Tervies (Jervies?)]. His sale, July 6, 2004(?), ascribed to Nicolas Lancret.


           
REMARKS
Little is known about this painting. Clearly, though, this picture is nothing more than a poor quality copy after Watteau's La Contredanse. It definitely cannot be given to Nicolas Lancret. Surprisingly, it copies the direction of Watteau's composition rather than agreeing with Brion's engraving. It is larger than Watteau's painting. It has omitted Watteau's small copse of trees at the left side, but has retained the statue.
La Contredanse (copy 2)
Entered July 2019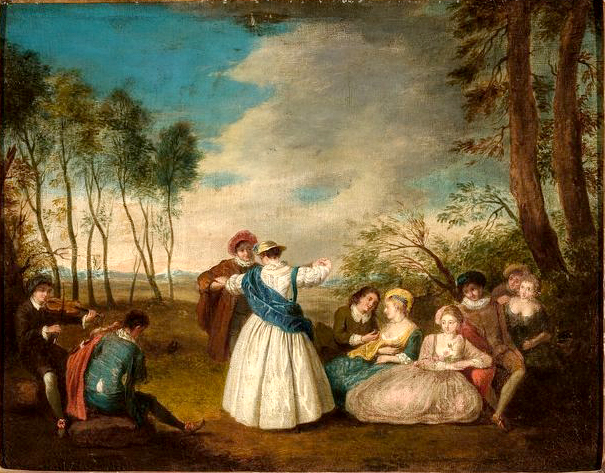 Whereabouts unknown
Oil on canvas
45 x 55.5 cm
PROVENANCE
Toulon, Mobilier de la Commanderie de la Bargemone, May 18, 2014, lot 34: WATTEAU Antoine . . . (école de) La contredanse Huile sur toile (rentoilage, petites usures). Dim. : 45 x 55,5 cm. Cadre ancien en bois sculpté et redoré à décor de cartouches à palmettes. 1 000 € / 1 500 €.
REMARKS
This copy of La Contredanse follows the direction of Watteau's painting and while it has copied the copse at the left of the composition, it has omitted the statue.
La Contredanse (copy 3)
Entered November 2019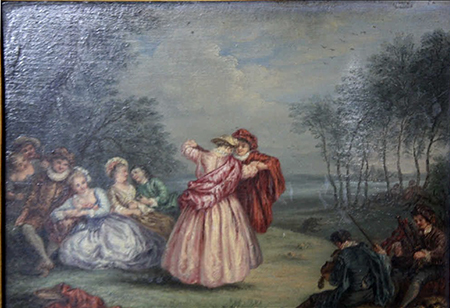 Whereabouts unknown
Oil on panel
9 x 24 cm
PROVENANCE
France, private collection.

Lyon, sale, Conan, Hôtel d'Ainay, December 15, 2019, lot 72: "VERON HENRIETTE . . . La Contredanse au son du violon  et de la musette. Huile sur panneau. 9 x 24 cm. Cadre en bois et stuc doré de style Louis XVI à motif de rainures et de feuilles de chêne dans les coins.  D'après la composition d'Antoine Watteau conservée autrefois à New York dans la collection Sterling Post (Cf. catalogue de l'exposition Watteau et la fête galante, pp. 192-194; Musée des beaux-arts de Valenciennes; mars-juin 2004). 500/600 €."
REMARKS
This very small, pastel-colored replica of Watteau's composition was painted (and signed?) by Henriette Veron (b. Sedan c. 1825-d. after 1870). She and other members of her family appear to have specialized in copies after Watteau's compositions. Here her painting was based on Etienne Brion's engraving after Watteau's composition and while generally faithful, some of the elements, such as the statue of a putto at the side, were omitted.