Le Dénicheur de moineaux (copy 1)
Entered March 2020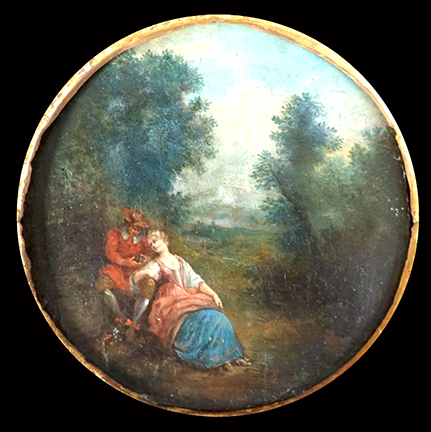 Whereabouts unknown
Oil on panel
Diameter 12 cm
ALTERNATIVE TITLES    
Scène pastorale
PROVENANCE
Paris, Hôtel Drouot (Mirabau-Mercier), October 30, 2019, lot 87:  Dans le goût de WATTEAU. "Scène pastorale". Huile sur panneau de forme ronde. Diam. 12 cm (Restaurations anciennes). Cadre en bois doré. Diam 23 cm.
REMARKS
This small picture copies just the figurative elements from  the central portion of Le Dénicheur de moineaux, and follows the direction of the Boucher engraving. The landscape does not reflect Watteau's scheme.
Le Dénicheur de moineaux (copy 2)
Entered March 2020; revised March 2021
Whereabouts unknown.
Medium unknown
Measurements unknown
PROVENANCE

Paris, collection of Mme. Veuve Crauford. Her sale, Paris, February 18-20, 1834, lot 12: "WATEAU . . . Un villageois offre à une jeune fille un nid d'oiseaux."
SELECT BIBLIOGRAPHY
Dacier, Vuaflart, and Hérold, Jean de Jullienne et les graveurs, under cat. 5.

Réau, "Watteau" (1928), under cat. 261.

London, Royal Academy, Landscape in French Art (1949), under cat. 101.

Adhémar, Watteau (1950), under cat. 86.

 

REMARKS
Like Watteau's composition, the Crauford painting seems to have featured just the two lovers and the bird's nest. The name "Crauford" is distinctive but not French. Could it have been a gallicized version of "Crawford," a common name in England and Scotland? This is all the more tantalizing since Watteau's painting was in Scotland by the late 1820s or early 1830s, in the collection of Mr. and Mrs. Hugh William Williams.
Click here for Le Dénicheur de moineaux