La Famille
Entered May 2022
Switzerland, private collection
Oil on canvas
41.2 x 32.4 cm
ALTERNATIVE TITLES    
La Dame à l'éventail

La Famiglia

Une Famille en conversation

Femme dans un parc

A Garden Scene

A Lady and a Gentleman with their Child

The Lady with the Fan
RELATED PRINTS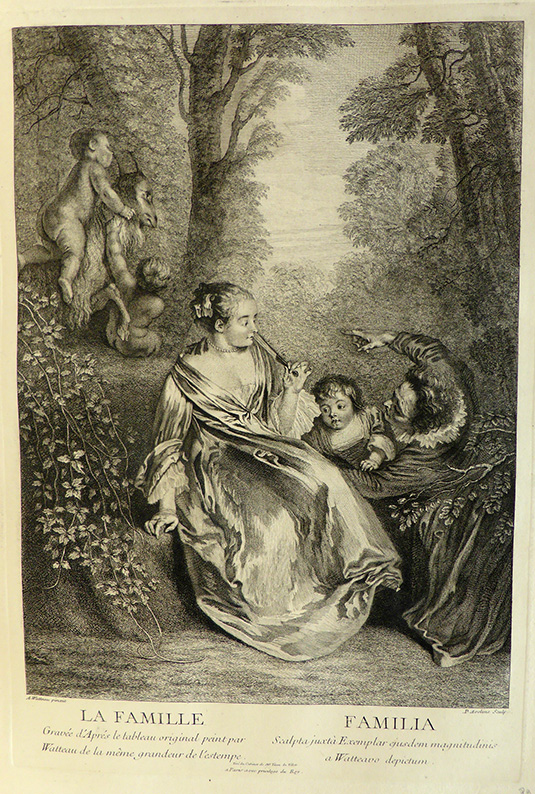 Watteau's painting of La Famille was engraved in reverse by Pierre Aveline  for the Oeuvre gravé and was announced for sale in the September 1729 issue of the Mercure, p. 2244.
PROVENANCE
Paris, collection of Evrard Titon du Tillet (1677-1762; maître d'hôtel of the dauphine). His ownership is noted on the engraving, which was issued in 1729. Also it was cited by Dezallier d'Argenville in the 1752 edition of his Voyage pittorsque, p. 243, where it was indirectly cited in Titon du Tillet's home in the rue de Montreuil: "Deux jolis tableaux de Watteau." The two Watteau paintings were not cited by Dezallier in the 1757 edition of his book.

London, collection of John Pratt, 1st Marquess Camden (1759-1840). His sale, London, Christie's, June 12, 1841, lot 40: "WATTEAU. . . . A GARDEN SCENE, a Lady with a Fan, accompanied by a gentleman and a little girl; an undoubted and fine specimen of the master." Sold for £50(?) to Niewhuysen, according to an annotated copy of the sale catalogue in the Rijksbureau vor kunsthistoriche Dokumentatie.
 
Paris, collection of a Monsieur Collot (marchand de nouveautés, active in the mid-nineteenth century). Lent by him to the 1848 exhibition: Troisième Exposition de l'Association des Artistes (as by Watteau, La Famille).

Hanwell, England, collection of John Smith (1781-1885; art historian). His sale, London, Phillips, March 18, 1856, lot 34: "WATTEAU . . . A Lady and Gentleman with their Child seated in a landscape." Sold for £12.1.6 or £12 according to an annotated copy of the sale catalogue in the National Art Library, Victoria & Albert Museum, London.

Paris, collection of Charles Augustus Louis Joseph de Morny, duc de Morny (1811-1865). It was in his collection by 1860 when he lent it to the exhibition arranged by Philippe Burty, Tableaux et dessins de l'école française. His sale, Paris, May 31ff, 1865, lot 115: "La Dame à l'Éventail." Sold for 7,650 francs. An annotated copy in the Rijksbureau voor Kunsthistorische Documentatie has the buyers name as Rothschild, but that was then struck out and replaced by Van Cruyck.

Paris, collection of Jules Duclos. His sale, Paris, Hôtel Drouot, November 20-21, 1878, lot 122: "WATTEAU (Attribué à) . . . La Famile. Composition gravé."

Cited as being in England by Fourcaud in 1905.

Paris, collection of Maurice de Rothschild (1881-1957) by 1922; seized during World War II by the Germans and chosen by Goering for his personal collection.

Pregny, Switzerland, repatriated in 1945 to Edmond de Rothschild; sold by him to a private collector.

Vandoeuvres (Geneva), Switzerland, collection of George Ortiz (1927-2013).
EXHIBITIONS
Paris, 1848, Troisième exposition de l'Association des artistes (as by Watteau, La Famille, lent by M. Collot).

Paris, Galerie Martinet, Tableaux et dessins de l'école française (1860), cat. 266: (as by Antoine Watteau, La Famille, lent by the comte de Morny).

Paris, Orangerie, Chefs-d'oeuvre des collections françaises retrouvés en Allemagne (1946), cat. 4 (as by Watteau, Femme dans un parc, or Une Famille en conversation, or La Dame à l'éventail).

Washington, Paris, Berlin, Watteau 1684-1721 (1984), cat. 54 (as by Watteau, The Family [La Famille] lent by a private collection, Switzerland).
SELECT BIBLIOGRAPHY
Dezallier d'Argenville, Voyage pittoresque (1752), 243.

Hédouin, "Watteau" (1845), cat. 59.

Clément de Ris, "Troisième exposition" (1848), 194.

Hédouin, Mosaïque (1856), cat. 60.

Goncourt, L'Art au XVIIIème siècle (1860), 57.

Thoré-Bürger, "Exposition de tableaux" (1860), 270-271.

Cousin, Le Tombeau de Watteau (1865), 29.

Goncourt, Catalogue raisonné (1875), cat. 134.

Mollet, Watteau (1883), 68.

Dargenty, Watteau (1891), 25.

Phillips, Watteau (1895), 40.

Fourcaud, "Scènes et figures galantes" (1905), 105-06.

Dacier, Vuaflart, and Hérold, Jean de Jullienne et les graveurs (1921-29), 1: 261; 2: 29, 62, 96, 121, 131; 3: cat. 86.

Dacier, "En étudiant l'oeuvre gravé" (1923), 89.

Réau, "Watteau" (1928), cat. 194.

Girodie, Jacques Sarazin (1934), 15.

Adhémar, Watteau (1950), cat. 170.

Mathey, Watteau, peintures réapparues (1959), 68.

Mirimonde, "Statues et emblèmes" (1962), 15.

Macchia and Montagni, L'opera completa di Watteau (1968), cat. 114.

Ferré, Watteau (1972), cat. B33.

Roland Michel, Watteau (1981), cat. 150.

Roland Michel, Watteau (1984), 97, 223, 229.

Posner, Watteau (1984), 208, 237, 243, 248, 289, n. 21.

Rosenberg and Prat, Watteau, Catalogue raisonné des dessins (1996), cat. 428, 475, 476, 634.

Temperini, Watteau (2002), cat. 43.

Glorieux, Watteau (2011), fig. 173.
RELATED DRAWINGS
Watteau's studies from the model for the two principal figures in La Famille are extant. That for the man is a sheet in Washington (Rosenberg and Prat 475). The artist used this figure on at least three occasions: in a preliminary stage in the planning of La Perspective, in L'Assemblée galante, and here in La Famille. The woman was based on a double study now in Amsterdam (Rosenberg and Prat 476). However, Watteau introduced several changes when executing La Famille: he removed her cap and showed her bareheaded in the painting, and changed the position of her right arm so that she can hold a fan to her chin.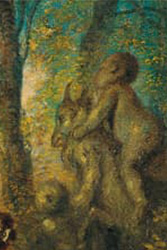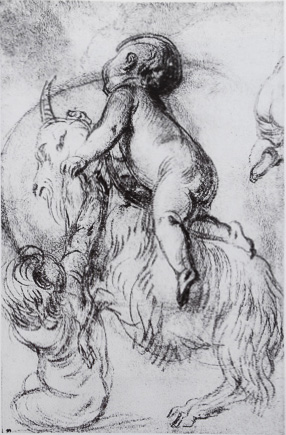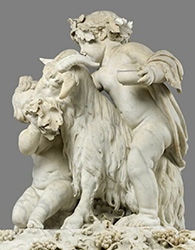 Watteau sketched Jacques Sarazin's sculpture of a goat and cherubs from different points of view. Three of the drawings have survived, although the series undoubtedly included more. The one that he employed for La Famille is in private hands (Rosenberg and Prat 428). The actual sculpture that he knew was one in the collection of Pierre Crozat, and although that version has not survived, a slightly different variation by Sarazin is in the Louvre. Watteau depicted Sarazin's work in at least three other paintings, Amusements champêtres, Récréation galante, and La Cascade, each time depending on other drawings in the series with different views of the sculpture. 
REMARKS
Despite being known in the early eighteenth century and the mid-nineteenth century, La Famille has rarely been seen in public in modern times, except for an exhibition immediately after World War II and in the great Watteau tercentenary exhibition of 1984.
The provenance of the painting is also somewhat sketchy. The first known owner was the important maecenas of the arts, Evrard Titon du Tillet –who also had Watteau's Sérénade italienne—but then it disappeared from sight for a century. Some scholars, starting with Dacier and Vuaflart, have suggested that La Famille was the picture sold in Paris on June 20, 1833, where it was described as "Esquisse terminée." This description does not seem apt for La Famille. Unlike Le Faux pas which was rightly called an "esquisse," La Famile is fully finished.
Although we have been able to suggest a few additional owners in the nineteenth century such as the Marquess Camden and Hamwell, these references do not apply to the original painting with any   certainty. What does emerge, though, is  that the picture frequently changed hands in the second half of the nineteenth century. In contrast, through most of the twentieth century it remained fixed in place and hidden from prying eyes, and it still is kept from public view.
It might seem too novelistic to construe this scene of a man, a woman, and a child as a family group, especially because none of the characters appear to be emotionally attached to the others: the man lifts his arm as though declaiming, the woman holds her fan to her lips as though pondering something—perhaps a gesture of love in doubt, and the child seems unrelated to either of the adults. Yet when the composition was engraved in 1729, it was given the title La Famille, and whereas sometimes such titles were meaningless, created out of thin cloth by versifiers, in this case the title was indeed meaningful. As Dacier and Vuaflart pointed out, in the postmortem inventory of Marie Louise, widow of Jean Le Bouc-Santussan, an exemplar of the Aveline print after La Famille was described as "representant le feu Sr. LeBouq-Santussan & sa famille." This helps confirm the identities of the people in the painting beyond doubt. Decades later the child married Marie Louise, the elder daughter of Edme Gersaint, thus suggesting the close-knit nature of the community surrounding Watteau and his friends.
However, La Famille is not a portrait in the normal sense of the word. The sitters did not commission the work, but instead must have been convenient models, friends who willingly posed for the artist. It is significant that they did not retain ownership of the painting, as would normally happen with a commissioned portrait; rather, it entered Titon du Tillet's collection soon after it left Watteau's atelier.  
One of the unsettled questions that clouds any reading of Watteau's paintings is whether there are covert meanings. Mirimonde, for example, intent on finding hidden language in Watteau's art, insisted on linking the statue with the couple, implying that they occupy the realm of satyrs and the mischievous god Pan. Mirimonde, followed by Rosenberg, also linked the presence of the goat ("bouc" in French) with Le Bouq–Santussan's family name.
While it is generally agreed that La Famille is a work of Watteau's maturity, there is little agreement as to when it was executed. Mathey proposed a date toward 1713-1715; Camesasca and Montagni, as well as Roland Michel and Temperini, favored 1715; Rosenberg opted for a still later date, in 1717.
Click here for copies of La Famille