La Famille (copy 1)
Entered May 2022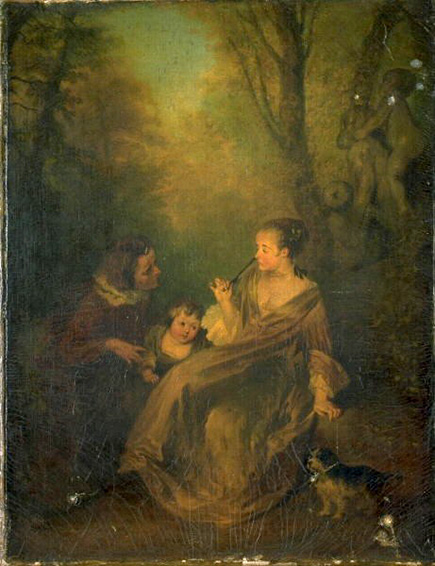 Bordeaux, Musée des beaux-arts, Inv. Bx E 1069
Oil on canvas
42 x 32.6 cm.
ALTERNATIVE TITLES
L'Amour maternel
PROVENANCE
Bordeaux, collection of Auguste Poirson (1836-1896). Bequethed to the Bordeaux museum in 1896.
SELECT BIBLIOGRAPHY
Meaudre de Lapouyade, "Lancret ou Watteau ?" (1917), 52-54.

Wildenstein, Lancret (1924), under cat. 622.

Dacier, Vuaflart, and Hérold, Jean de Jullienne et les graveurs (1921-29), 1: 261, under cat. 86.

Paris, Orangerie, Les Chefs-d'oeuvre (1946), under cat. 4.

Adhémar, Watteau (1950), under cat. 170, under cat. 238.

Macchia and Montagni, L'opera completa di Watteau (1968), under cat. 114.

Ferré, Watteau (1972), cat. P 66.

Washington, Paris, Berlin, Watteau 1684-1721 (1984), under cat. 54.
REMARKS
Although the Bordeaux museum's painting may have passed under Watteau's name at some point in its early history, since at least the early twentieth century it has been recognized as just a copy after Watteau's La Famille. As its left-right orientation reveals, it follows Watteau's canvas and not the Aveline engraving. It is a relatively faithful copy except that the painter added a dog to the foreground and changed the disposition of the trees, especially at the left side.
When it was recognized that this was not the autograph version of Watteau's composition, in a compensatory move the picture was assigned to Lancret although there is nothing here that specifically recalls the manner of that Watteau satellite. Wildenstein and most twentieth-century critics have either accepted the attribution to Lancret or, at least, have repeated his name in an offhand way; some have remained silent but none have openly refuted the attribution to Lancret. Presently the museum classifies the work as a nineteenth-century copy.
La Famille (copy 2)
Entered May 2022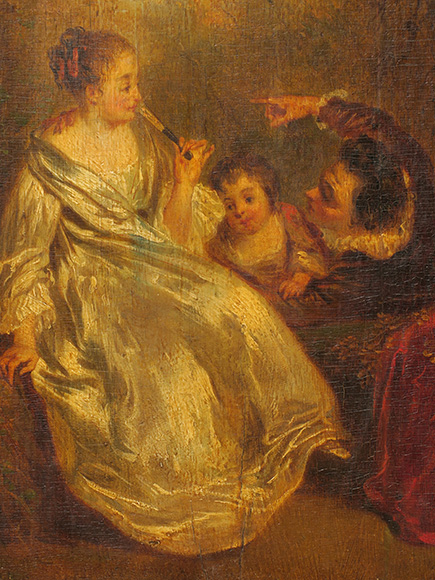 Whereabouts unknown
Oil on panel 
29 x 29 cm
ALTERNATIVE TITLES
Escena campestre
PROVENANCE
Madrid, sale, Goya Subastas, June 15, 2016, lot 33: "Seguidor de Antoine Watteau . . .  /  'Escena campestre' / Óleo sobre tabla / 29 x 29 cm / 800- 1,000€."
REMARKS
This copy after Watteau's composition is smaller in scale than the original painting, omits the sculpture group of the ram and frolicking children, and, most telling, follows the direction of Aveline's engraving.