Mezzetin à la guitare 
Entered September 2020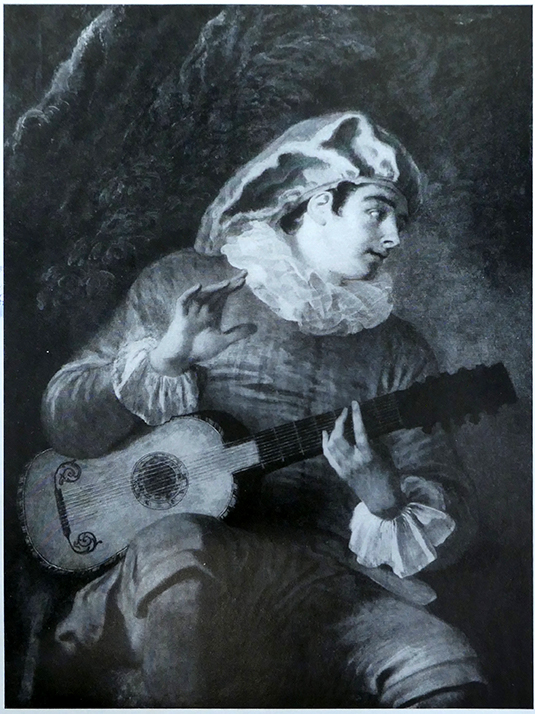 Whereabouts unknown
Oil on canvas
110.5 x 84 cm
ALTERNATIVE TITLES
Le Joueur de guitare
PROVENANCE
Paris, collection of the duc de V. His sale, Paris, Hôtel Drouot, April 7, 1862, cat. 3: "WATTEAU (ANTOINE) . . .  Le Joueur de guitare. – Cette jolie figure, vigoureusement peinte, se détache sur un ciel lumineux et de jolis fonds de paysages ornés de figures."

Collection of Charles Francis Mac Dermot.

Collection of Madame Ruddle Brown.

Vaduz, Liechtenstein, private collection.
EXHIBITIONS
Munich, Residenz, Europäisches Rokoko (1958), cat. 219.
SELECT BIBLIOGRAPHY
Mathey, "Une feuille d'études" (1956), 211ff.

Mathey, Peintures réapparues (1959), 54-55, 80,

Rosenberg and Prat, Watteau, catalogue raisonné des dessins (1996), under cat. 464.
RELATED DRAWINGS
The attribution of the Vaduz painting to Watteau is strengthened by a study in Munich of the guitarist's upraised right hand and sleeve (Rosenberg and Prat 464). Fortunately, there is no doubt about the authorship of the drawing, especially since the head was used by Watteau for the character of the Doctor in the artist's chef d'oeuvre, the Gilles in the Louvre.
REMARKS
It is intimidating to ascribe a painting to Watteau that one has not seen firsthand, that was not engraved for the Jullienne Oeuvre gravé, and does not have a history of acceptance by earlier scholars. Yet that is exactly the situation here. The only critic to have written extensively on this picture is Jacques Mathey and that, frankly, works against the painting because Mathey ascribed so many dubious and outrightly bad pictures to Watteau. Nonetheless, the evident high quality of the Vaduz picture and the plaintive, poetic mood of the actor are sufficiently persuasive grounds for accepting the attribution. Moreover, the drawing of the guitarist's hand in Munich is important evidence in favor of the attribution.
The guitarist looms large on the canvas, overwhelming the small elements of landscape visible at the sides. This sense of monumentality parallels the composition of Watteau's Gilles, where not only is the scale of the figures exceptionally large but also the presence of the characters is strongly felt. It is significant that the study of the comedian's head on the Munich drawing was used for one of the comedians in the Gilles. This conjunction suggests that the two paintings were executed around the same time, late in Watteau's career.
The provenance from the 1862 sale of the Duc de V's collection is information supplied by Jacques Mathey, who evidently knew the then-owner of the painting and learnt from him the identities of the subsequent collectors. All this would be welcome information were it not for the 1862 catalogue describing "fonds de paysages ornés de figures." As far as can be determined, there are no figures in the landscape. Even if this discredits the announced provenance of the picture, this does not affect its attribution.