Retour de guinguette (copy 1)
Entered May 2022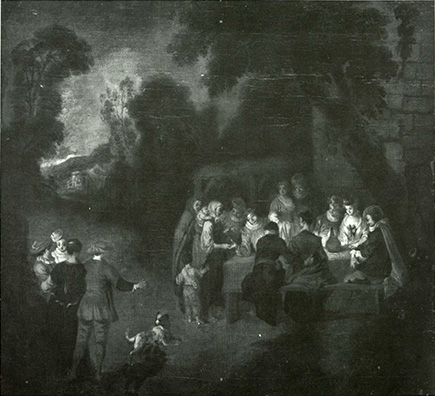 St. Petersburg, Hermitage Museum, inv. ГЭ-1153
Oil on canvas
47 x 54 cm
ALTERNATIVE TITLES
A Fortune Teller

La Diseuse de bonne aventure
PROVENANCE
St. Petersburg, Hermitage Museum, arrived on site between 1773 and 1783.

 
EXHIBITIONS
Petrograd, Hermitage, The First Hermitage Exhibition (1920), 15.
SELECT BIBLIOGRAPHY
Munich, "Catalogue raisonné des tableaux" (1773-85).

Leningrad, Hermitage, Catalogue (1774), cat. 1764.

St. Petersburg, Hermitage, Livret (1838), cat. 80. 

Ernst, "L'Exposition de peinture française" (1928), 176.

Leningrad, Hermitage, Catalogue (1958), cat. 1796.

Nemilova, La Peinture française du XVIIIe siècle (1982), cat. 54.

Nemilova, French Painting, Eighteenth Century (1986), cat. 357.
REMARKS
When this picture and its pendant, The Dance on the Meadow, came to St. Petersburg in the late eighteenth century, both pendants were listed, unsurprisingly, under Watteau's name. Indeed, they retained that prestigious but false attribution until well after World War II. Curiously, though, they seem to have gone unmentioned in the literature on Watteau outside of Russia. In 1976 Nemilova assigned both works to the school of Watteau, and recognized that The Dance on the Meadow was based on Watteau's Le Bal champêtre, now in the Noailles collection.
The critical history of the so-called Fortune Teller followed a slightly different course. While it was recognized to not be by Watteau himself but by a painter in his circle, several times over it was declared that this painting "has no direct prototype in Watteau's oeuvre." This is not correct, for most of the composition is a free variation upon the people at the table in the middle ground of Watteau's Retour de guinguette. Although they are far from exact transcriptions, some of the figures—especially the gypsy fortune teller and her child—closely echo the figures in Watteau's design.
The figures in the left foreground of the Hermitage painting, especially the man lurching forward and his arm outstretched, were probably inspired by the drunken townspeople at the center of Watteau's composition.
The Hermitage's two paintings offer some insight into the commercial Paris art market and the way that Jullienne's prints fed the demand for Watteau's type of imagery. Although created as pendants, they were not well conceived: the figures in the Dance on the Meadow are larger than those in The Fortune Teller and dominate the setting, whereas those in the Fortune Teller are more numerous but smaller in scale. In truth, both paintings reflect the two unrelated Watteau paintings they imitate.
Retour de guinguette (copy 2)

Entered May 2022 Whereabouts unknown
Medium unknown
Measurements unknown
PROVENANCE
Paris, collection of a Monsieur Guichard, c. 1868.
SELECT BIBLIOGRAPHY
Adhémar, Watteau (1950), under cat. 41.

Montagni and Macchia, L'opera completa di Watteau (1968), under cat. 25.
REMARKS
In 1868 a Monsieur Guichard apparently offered the Louvre a painting that was identified in the museum's records as Retour de guinguette. In citing this reference, Adhémar described the picture as perhaps being the one by Watteau, but this seems unlikely. Montagni and Macchia repeat Adhémar's information without comment.