X. L'Escamoteur
Entered July 2020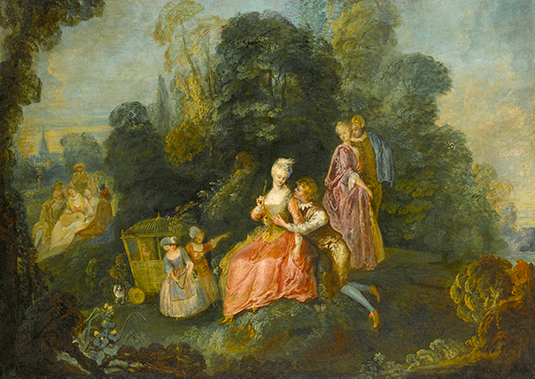 Whereabouts unknown
Oil on canvas
84.4 x 71.6  cm
ALTERNATIVE TITLES    
Amorous Couples in a Garden Setting, A Group making Music Beyond

Elégantes assembles dans un parc
PROVENANCE
Paris, collection of the marquis de Saint-Cloud. His sale, Paris, Hôtel des commissaires-priseurs, April 11-12, 1864, lot 112: "WATTEAU (ANT.) . . . L'Escamoteuer."

Paris, collection K. Oldekop

Bordeaux, collection Madame Gaulin (see her letter to Hélène Adhémar, dated November 7, 1956, on file at the Service de documentation, Département de peinture, Musée du Louvre).

London, sale, Sotheby's, April 10, 2013, lot 157: "Attributed to Pierre-Antoine Quillard. . . . AMOROUS COUPLES IN A GARDEN SETTING, A GROUP MAKING MUSIC BEYOND; AN ELEGANTLY DRESSED GROUP RELAXING IN A GARDEN SETTING
     PROVENANCE  Marquis de Saint-Cloud / His sale, Paris, Laneuville, 10-11 April 1864, lots 112 and 113 (as Antoine Watteau); / In the collection of K. Oldekop; / In the Gaulin collection.
EXHIBITED: Paris, Hotel de la Monnaie, Pélerinage à Watteau, 1977, nos. 188 and 189. (2)  Estimate 5,000-7,0000 GBP / a pair, both oil on canvas / each 83.4 by 116.9 cm.; 32 7/8 by 46 in.
EXHIBITIONS
Paris, Hotel de la Monnaie, Pélerinage à Watteau, (1977), cat. 188 (Ecole française du XVIIIe siècle, L'Escamoteur, private collection).



REMARKS
The two fêtes galantes in the 1864 sale of the collection of the marquis de Saint-Cloud had arbitrary titles. This one was called L'Escamoteur (the illusionist or prestidigitator), a name which does not at all suit the subject. The man is pleading his cause to his sweetheart, nothing more. two works remained together until the 2013 sale at Sotheby's, London. There they were separated at this auction and while Le Repos à la fontaine remained in the public eye, frequently coming up auction, L'Escamoteur fell from sight and has not been seen for the last decade.
The name given to L'Escamoteur is confusing because it does not seize upon the salient elements in the composition.  Far more striking is the diminutive chaise for children. Indeed, the two children and their fashionable clothes are noteworthy. Like the paintings of Chardin and Lancret, this artist observed and recorded life here with candor.
The attribution to Watteau in the mid-nineteenth century and the more recent ascription to Quillard are responses to different aspects of the works. The overall theme of a fête galante might justify summoning up Watteau's name, but little else. The nervous, flickering quality of the figures might suggest Quillard's name to some but the association is too feeble. Neither of these two artists painted this picture nor should the names of the other known Watteau satellites be intoned. Moreover, this is not the work of a commercial pasticheur, but is the work of a very distinct hand.
Yet as independent as this artist may have been, he still was indebted to Watteau, and in surprising ways. The couple strolling away at the right, their bodies joined in graceful, rhythmic cadence as they look back, seem so familiar. But while there are comparable couples with equally graceful movement, such as those in Watteau's Plaisir d'amour in Dresden, there is no compelling match. On the other hand, the gallant man kneeling and locked in earnest conversation with his lady, is a direct quotation from Watteau. This couple was taken from plate 132 of the Figures de différents caractères. Our unidentified artist did not turn to the original Watteau drawing, which would be in the opposite sense (see Rosenberg and Prat R546).