X. Infantry Bivouacking
Entered September 2021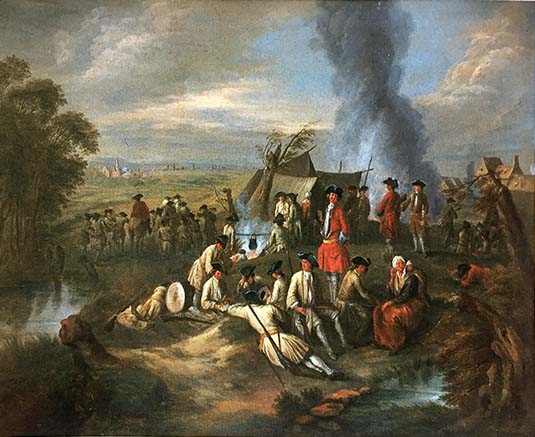 Whereabouts unknown
Materials unknown
49.5 x 61 cm.
PROVENANCE
London, collection of Charles Peregrine Heathcote-Drummond-Willoughby (1905-1965).

London (?), private collection.

London, sale, Christie's, April 12, 1988, lot 11: "Follower of Jean Antoine Watteau / Infantry on the march; and Infantry bivouacking / 19½ x 24in (49.5 x 61 cm.) a pair (2) / PROVENANCE: Peregrine H. Drummond Willoughby / The compositions follow prints after Watteau / £ 6,000-8,000."
REMARKS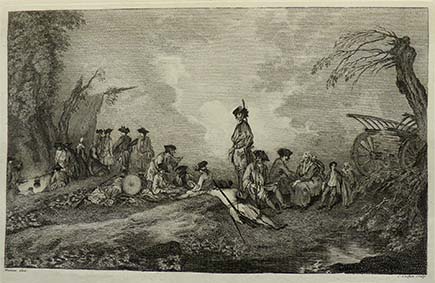 The Christie's description of this and the pendant painting as following prints makes it seem as though it was a simple one-to-one transcription of engraved compositions to the canvas but, in fact, the paintings are pastiches. The principal figures in the right foreground of Infantry Bivouacking are based on Cochin's engraving after Watteau's Détachement faisant alte.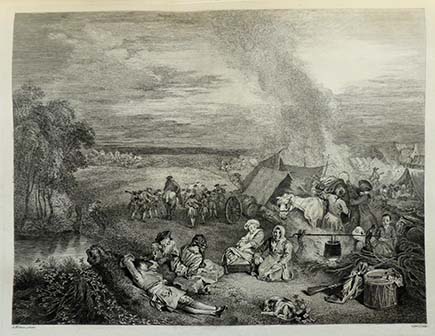 On the other hand, the troops heading off into the distance and also the tents were derived from Cars' engraving after Escorte d'equipages.
Reinforcing the idea that this painting was executed by a pasticheur, the pendant, Infantry on the March,
was similarly based on two engravings after Watteau.