X. Infantry on the March
Entered September 2021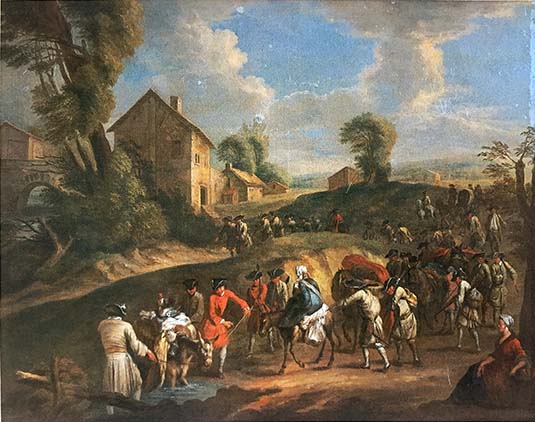 Whereabouts unknown
Materials unknown
49.5 x 61 cm.
PROVENANCE
London, collection of Charles Peregrine Heathcote-Drummond-Willoughby (1905-1965).

London (?), private collection.

London, sale, Christie's, April 12, 1988, lot 11: "Follower of Jean Antoine Watteau / Infantry on the March; and Infantry bivouacking / 19½ x 24in (49.5 x 61 cm.) a pair (2) / PROVENANCE: Peregrine H. Drummond Willoughby / The compositions follow prints after Watteau / £ 6,000-8,000."
REMARKS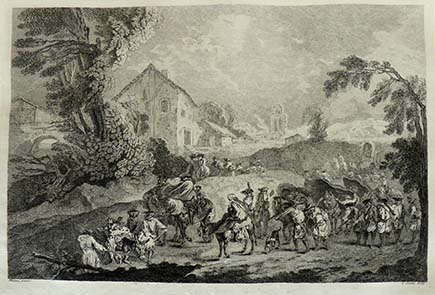 The Christie's description of this painting and its pendant as following prints makes it seem as though it was a simple one-to-one transcription of engraved compositions to the canvas but, in fact, the paintings are pastiches. Infantry on the march is based on at least two Watteau compositions. Scotin's engraving after Fatigues de la guerre supplied some of the figures such as the woman on horseback, seen from behind, at the center of the composition. Likewise, the men preceding and following her are based on that same Watteau composition. Also the two buildings at the left side of the painting are from Les Fatigues de la guerre.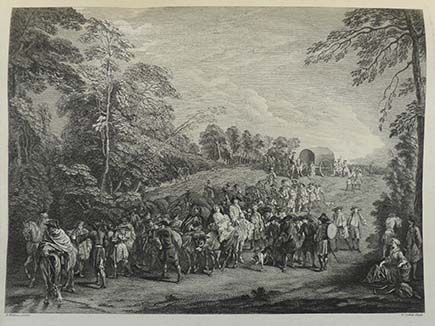 On the other, the woman seated in profile in the lower right corner was borrowed from Cochin's engraving after Watteau's Retour de campagne.
Reinforcing the idea that this painting was executed by a pasticheur, its pendant, Infantry Bivouacking,
was similarly based on two engravings after Watteau.