Les Amusements de Cythère
Entered April 2015; revised January 2020

Presumed lost
Oil on canvas
30 x 40.1 cm (or 30.5 x 38.1) cm
ALTERNATIVE TITLES
Vénus jouant avec des Amours
RELATED PRINTS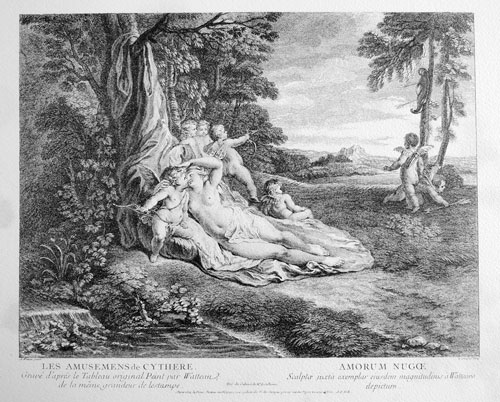 The painting was engraved by Louis Surugue in late 1729 or early 1730, and was finished by the time it was announced for sale by the Veuve Chéreau in the April 1730 issue of the Mercure de France (p. 768).
Surugue's print was supposedly copied by Elisha Kirkall (c. 1682-1742), but, except for a copy recorded in the Paignon-Dijonval collection at the beginning of the nineteenth century, nothing is known about this engraving.
PROVENANCE
Paris, collection of Jean de Jullienne (1686-1766; director of a tapestry factory). His ownership of the painting was indicated on the third and fourth states of Louis Surugue's engraving of 1730: "Tiré du Cabinet de Mr de Jullienne." Jullienne evidently sold the painting in the next decades as it was not cited in the illustrated manuscript inventory of his collection prepared c. 1756, and now in the Morgan Library & Museum, New York.

Paris (?), collection of Louis Bernard Coclers (1740-1817; portrait painter and engraver). His and Dessanterre's sale, February 9ff, 1789, lot 191: "Jillot . . . Un Paysage orné de figures, représentant Vénus jouant avec des Amours. Cette composition agréable est d'une bonne couleur. Haut. 12 p., larg. 15. T." Bought for 28.1 livres by Langevin according to the annotated copy of the sale catalogue in the Rijksbureau voor Kunsthistorische Documentatie. The size and subject correspond to the engraving, and even the attribution to Gillot can be overlooked since the painting is in Watteau's early manner. However, this identification remains guarded.
SELECT BIBLIOGRAPHY
Hédouin, "Watteau" (1845), cat. 105.

Hédouin, Mosaïque (1856), cat. 106.

Goncourt, L'Art au XVIIIème siècle, (1860), 1: 56.

Goncourt, Catalogue raisonné (1875), cat. 35.

Dacier, Vuaflart, and Hérold, Jean Jullienne et les graveurs (1921-29), cat. 181.

Miller, "Borrowings of Watteau" (1927), 38.

Réau, "Watteau" (1928), cat. 12.

Adhémar, Watteau (1950), cat. 146.

London, Royal Academy, European Masters of the Eighteenth Century (1954-55), under cat. 243.

Lévy, "Une Vie inconnue" (1957), 202-03.

Lévy, "Watteau et Le Moyne" (1958), pp. 347-354.

Macchia and Montagni, L'opera completa di Watteau (1968), cat. 99.

Roland Michel, Watteau (1984), 151.

Eidelberg, "Ce joli morceau" (1999), 41-42.

Michel, Le «Célèbre Watteau» (2008), 109-10, 247.

Paris, Louvre, Watteau et l'art de l'estampe (2010), cat. 105.

Glorieux, Watteau (2011), 39-40.
REMARKS
The fate of Les Amusements de Cythère is problematic. Its immediate whereabouts after it left Jullienne's collection are unknown. If we are correct in assuming that this was the painting that appeared in the Coclers collection in 1789, by then it had lost its identity as a work by Watteau and was attributed to Gillot. Afterwards, it fell from sight once more. Did it, like many paintings of the ancien régime, fall victim to the Revolution? Modern scholars had thought that they could identify it with a painting showing Cupid and putti that passed in various sales: the Blondel d'Azincourt  sale in 1770, the prince de Conti sale in 1777, the Cheraud sale in 1777, the Saint Morys sale in 1786, the Saint Victor sale in 1822, the Saint sale in 1846, and the Giroux sale in 1851. But the Watteau painting at these auctions proves to have been L'Amour aiguisant ses traits. Thus we are left with no trace of Les Amusements de Cythère in the nineteenth and twentieth centuries. Yet it is a fascinating painting.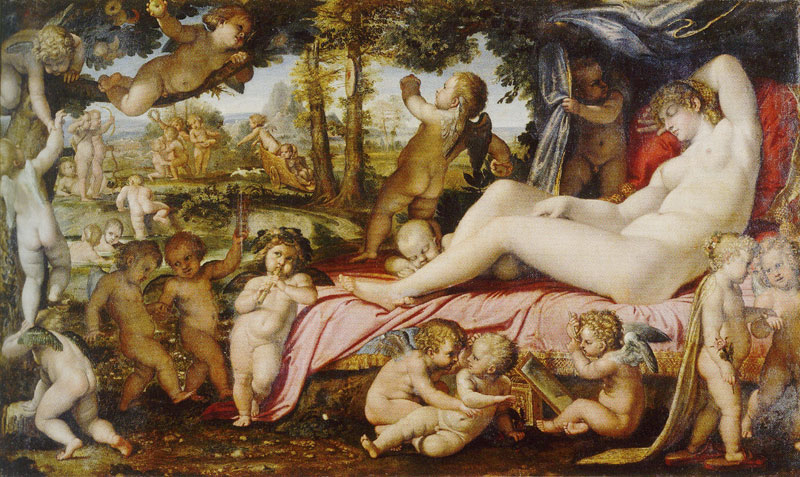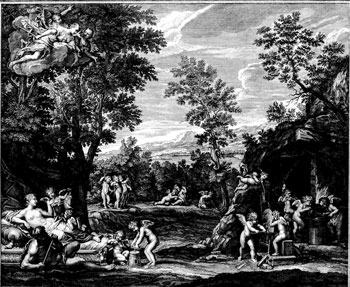 The traditional nature of Watteau's subject, Venus surrounded by putti, was a popular one in the Renaissance and Baroque eras. The beautiful painting by Annibale Carracci at Chantilly is a splendid example. While Venus languorously sleeps, the putti in the foreground pursue a myriad of activities, and another group in the background engage in an archery competition, much as they do in Watteau's painting. A version by Carracci's follower, Francesco Albani, an Allegory of Fire is part of a series of the Four Elements. While far less gracious in form and spirit than Annibale Carracci's, this cycle was known through sets of engravings by Étienne Baudet and Benoît I Audran and were greatly admired by the French. They have particular relevance to Watteau's career. According to the biography of Watteau written by the abbé Leclerc and published in the Moreri Grand dictionnaire historique: "[Watteau] fit connaissance avec Gillot, peintre, et put demeurer avec lui. Watteau y profita de ses lumieres, et, etudia avec plus de commodite, passant une partie de son temps a copier, pour des marchands du pont Notre-Dame, les quatres estampes de l'Albane, qu'il peignait et colorait a sa fantaisie." The Venus in Albani's composition did not influence Watteau, but the scenes of the putti sharpening and shooting their arrows did—both here and in his L'Amour aiguisant ses traits.
The dating of Les Amusements de Cythère has varied considerably. One group of scholars, heavily influenced by the abbé Leclerc's remarks regarding Watteau's work for the painters on the Pont Notre Dame, favored a very early date: one has proposed c. 1704-05, Lévy favored 1705, and Wintermute preferred 1706-07. Of course, we have almost no exact measure of what Watteau was capable of painting in those first years. Mathey selected a slightly later date, 1710, while Adhémar chose to place it still later, c. 1715-16.
For copies of Les Amusements de Cythère click here