Diane au bain (copy 1)
Entered June 2020

Whereabouts unknown
Medium unknown
Measurements unknown
ALTERNATIVE TITLES
Diana Bathing
PROVENANCE
London, sale, Langford, February 11-12, 1774, lot 5: "M. HOARE. . . Diana bathing, after Watteau."
REMARKS
As indicated in the 1774 sale catalogue, the picture was a copy of Watteau's composition by William Hoare of Bath (c. 1707-1792; portraitist and painter). One wonders if Hoare copied the Aveline print or, since Watteau's picture was in England, did he copy it firsthand?
Diane au bain (copy 2)
Entered June 2020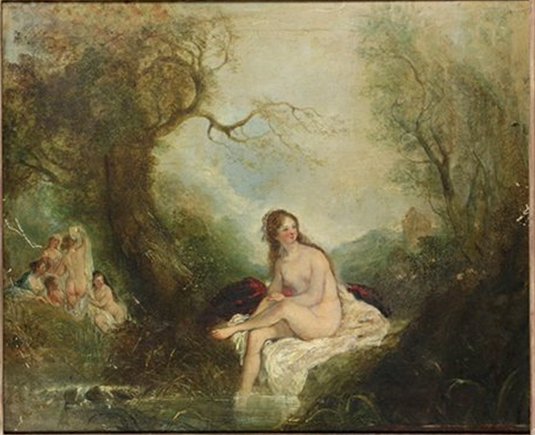 Whereabouts unknown
Oil on canvas
Approx. 57 x 66 cm
ALTERNATIVE TITLES
Lady at Her Bath
PROVENANCE
San Francisco, CA, collection of Edith (1912-1979) and  James Martin MacInnis (1911-1979; lawyer). 

Oakland, CA, Clars Auction, June 18, 2016, lot 613: François Boucher, 'Lady at her Bath,' oil on canvas, unsigned, artist name plate lower center of frame, artist and provenance label affixed verso, overall (with frame), 26.25 x 30.5 " w. Provenance: Mr. and Mrs. James Martin Macinnis (San Francisco, California. Estimate: $400 - $600.
REMARKS
This amateurish painting was apparently based on the Aveline engraving, but the artist added bathing women to the background and a more extensive landscape of his own invention.